Our Services
We are dedicated to helping our patients lead independent and fulfilling lives. That's why our team offers a wide range of therapy services designed to maximize functioning in all daily activities.
Whether your loved one needs help with communication, motor skills, or everyday tasks, our experienced therapists will work with you to develop a personalized treatment plan that meets your unique needs. We look forward to helping you achieve your goals.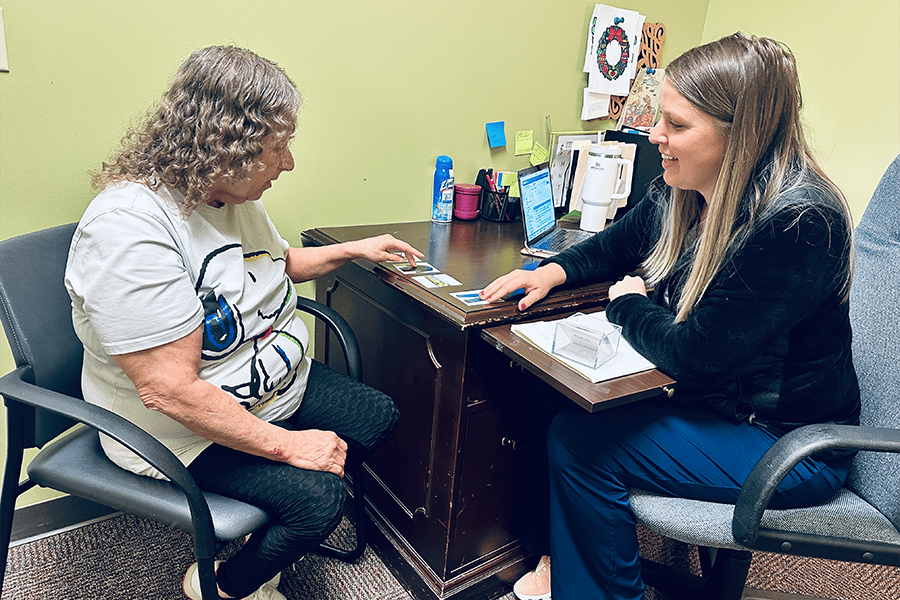 Physical Therapy
Physical therapists (PTs) provide services to individuals and populations to develop, maintain and restore maximum movement and functional ability throughout life by providing services in circumstances where aging, injury, disease, or environmental factors threaten movement and function. &nbspFunctional movement is central to what it means to be healthy.
Physical therapy is concerned with identifying and maximizing quality of life and movement potential through promotion, prevention, treatment/intervention, habilitation, and rehabilitation. &nbspThese treatments encompass physical, psychological, emotional, and social well-being. 
How Does Physical Therapy Work?
Physical therapy involves the interaction between physical therapists (PT), patients/clients, other health professionals, families, caregivers, and communities in a process where movement potential is assessed, and goals are agreed upon, using knowledge and skills unique to physical therapists. &nbspPhysical therapy is performed by a fully-licensed physical therapist.
PTs utilize an individual's history and physical examination to arrive at a diagnosis and establish a management plan, and when necessary, incorporate the results of laboratory and imaging studies. &nbspElectrodiagnostic testing (e.g., electromyograms and nerve conduction velocity testing) may assist. &nbspAll PTs must receive a graduate degree from an accredited physical therapist program before taking and passing the national licensure examination that allows them to practice.
Occupational Therapy
The primary goal of Occupational Therapy (OT) is to enable people to participate in everyday life activities. &nbspOTs achieve this by enabling people to do things that will enhance their ability to participate in activities or by modifying the environment or routine to better support participation.
Occupational therapists help clients improve their essential motor functions and reasoning abilities and compensate for permanent loss of function. &nbspThis includes: developing fine motor skills, improving eye-hand coordination, mastering basic life skills, learning positive behaviors and social skills, and accessing special equipment to assist with independence. 
Occupational therapists assist clients in performing activities of all types, from using a computer to caring for daily needs such as dressing, cooking, and eating. &nbspPhysical exercises increase strength and dexterity, while other activities may be chosen to improve visual acuity and the ability to discern patterns.
Who Can Benefit from Occupational Therapy?
Occupational therapy can specifically help people with:
Birth injuries or birth defects
Sensory processing disorders
Traumatic injuries to the brain or spinal cord
Learning problems
Autism
Juvenile rheumatoid arthritis
Mental health or behavioral problems
Broken bones or other orthopedic injuries
Developmental delays
Post-surgical conditions
Burns
Spina bifida
Traumatic amputations
Cancer
Severe hand injuries
Multiple sclerosis, cerebral palsy, and other chronic illnesses
They also design or make special equipment needed at home or work. &nbspTherapists develop computer-aided adaptive equipment and teach clients with severe limitations how to use that equipment to communicate better and control various aspects of their environment.
Speech-Language Pathology / Speech Therapy
Speech-language pathologists (SLPs), sometimes called speech therapists (STs), assess, diagnose, treat, and help to prevent disorders related to speech, language, cognitive communication, voice, swallowing, and fluency.
Problems with speech and oral-motor function can be congenital, developmental, or acquired. &nbspSpeech-language pathologists use special instruments and qualitative and quantitative assessment methods, including standardized tests, to analyze and diagnose the nature and extent of impairments.
How Speech-Language Therapy Helps
For individuals with little or no speech capability, speech-language pathologists may select augmentative or alternative communication methods, including automated devices and sign language, and teach their use. &nbspThey teach patients how to make sounds, improve their voices, or increase their oral or written language skills to communicate more effectively.
They also teach individuals how to strengthen muscles or use compensatory strategies to swallow without choking or inhaling food or liquid.
Speech-language pathologists help patients develop, or recover, reliable communication and swallowing skills so patients can fulfill their educational, vocational, and social roles.
Who Can Benefit from Speech-Language Therapy?
-People who cannot produce speech sounds or cannot produce them clearly
-People with speech rhythm and fluency problems, such as stuttering
-People with voice disorders, such as inappropriate pitch or a harsh voice
-Individuals with problems understanding and producing language
-Individuals who wish to improve their communication skills by modifying an accent
-People with cognitive communication impairments include attention, memory, and problem-solving disorders
Telehealth
Get the care you need from the comfort of your own home with our telehealth services! &nbspTelehealth is a convenient and affordable way to receive medical care. &nbspWith telehealth, you can connect with your healthcare provider via video chat to discuss your therapy questions and receive treatment.
If you are interested in learning more about telehealth, please call us today!
502-550-2525
We Service Clients Across Kentucky
​Interested in our services? &nbspPIC provides services across central, northern, and parts of southern and eastern Kentucky.
Check out and see if we service where you live:
Louisville
La Grange
Buckner
Prospect
Goshen
Shepherdsville
Taylorsville
Elizabethtown
Florence
Fort Thomas
Lexington
Frankfort
Georgetown
Versailles
Berea
Hodgenville
Richmond
Bardstown
Springfield
Lebanon
Danville
Lawrenceburg
Mt. Washington
Russell Springs
Additional areas are added daily!
Local Service Locations
Following are some of the facilities PIC collaborates with to provide services. &nbspContact us for more information about therapy services at these facilities or other locations!
Still Have Questions?
Contact Us