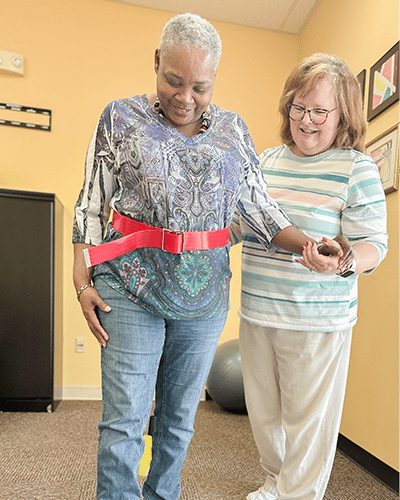 Specialized Therapy for Children & Adults with All Levels of Impairment or Ability
Founded by a speech-language pathologist, PIC provides speech, occupational, and physical therapy across central, northern, and parts of southern and eastern Kentucky. Our mission began in 2007 with the vision of increasing the access to, and quality of, services for adults and children with intellectual and developmental disabilities.
After years of continuous growth, we currently serve adults and children with a wide variety of needs and abilities. It is our goal to provide caring, compassionate, and professional therapeutic services—that's why we focus on the ability of the client, and strive to advance them to a maximum level of functioning in all environments.
For ultimate convenience and outreach, we provide services in a variety of locations. These include adult day programs, centers for children, private schools, in home, at work, and in the community. We try our best to accommodate our client's needs.
MISSION STATEMENT
The mission of PIC is to maximize independent functioning in all daily living activities through the provision of skilled and functional therapy services. &nbspWe believe that as independence increases, so does quality of life. &nbspIt is our goal to provide caring, compassionate, and professional service to every client so they can achieve optimal results. &nbspUltimately, we strive to increase the functioning of our clients and caregivers through specialized training, natural support networks, and communication.
VISIONS
PIC will be a leader in the provision of skilled therapy services for persons of all abilities, including persons with all varieties of intellectual, developmental, or physical abilities and needs.
PIC will provide client services that are functional and based on outcomes directed toward increased independence.
With high quality supports and functional training, clients will be able to perform daily living activities with increased independence, ultimately decreasing future costs of supportive services.
PIC will provide staffing and employment atmospheres that are conducive to quality recruitment and retention.
EQUAL RIGHTS
PIC provides services to all persons equally, without regard to race, color, sex, sexual orientation, gender, religion, disability, or national origin.